Voorbeeld product 1

€ 29,95

Voorbeeld product 2

€ 29,95

Voorbeeld product 3

€ 29,95

Voorbeeld product 4

€ 29,95
Bestelproces

Hoe plaatst u een bestelling?

1. Producten toevoegen aan winkelmand
Plaats de producten die u wilt bestellen in uw winkelmand door op de button 'in winkelwagen' te klikken. Indien u uw bestelling af wilt ronden, klik op de button 'bestellen'.

2. Winkelmand en kortingscode
U wordt nu doorgestuurd naar uw winkelmand. Indien u gebruik wilt maken van een kortingscode, vul deze dan in en klik op de tekst 'toepassen'. De korting wordt nu verrekend.
3. Verzendkosten berekenen
Selecteer het land waarnaar u uw bestelling wilt laten verzenden en de verzendmethode/kosten. U kunt ervoor kiezen om uw pakket door een vervoerder naar keuze op uw huisadres te laten bezorgen, op een afhaal punt of u kunt uw bestelling gratis ophalen in Zwolle.

Indien u nog iets toe wilt voegen aan een reeds bestelde, nog niet verzonden bestelling, kies dan 'orders samenvoegen'. Er worden dan geen verzendkosten gerekend.

Selecteer de juiste verzendmethode en klik op de button 'bestellen'.
4. Gegevens invoeren
Terugkerende klant? Selecteer 'inloggen'. Nieuwe klant? Selecteer dan 'doorgaan zonder account' of 'account aanmaken'. Klik op de button 'volgende'.
5a. Gegevens invoeren
Vul uw gegevens in. U kunt zowel particulier als zakelijk bij ons bestellen.

5b. Alternatief afleveradres invoeren
Indien uw factuuradres afwijkt van uw afleveradres vink 'gebruik een alternatief afleveradres' aan en vul uw gegevens in.
5c. Afhaalpunt selecteren
Indien u bij stap 3 de verzendmethode 'afhalen op DPD of PostNL afhaal punt' heeft geselecteerd, vink 'verstuur naar een afhaalpunt aan'. U wordt automatisch doorgeschakeld. Vul links bovenin de zoekbalk uw postcode of stad in en selecteer een afhaalpunt.

Belangrijk: wanneer u voor een DPD afhaalpunt heeft gekozen als verzendmethode, selecteer een DPD locatie. Wanneer u voor een PostNL afhaalpunt heeft gekozen, selecteer een PostNL locatie. In dit voorbeeld betalen wij voor verzending naar een DPD afhaalpunt, dus selecteren wij een DPD afhaalpunt.
6. Gegevens controleren
Indien uw gegevens correct zijn ingevuld, klik op de button 'volgende'.
7. Verzendmethode selecteren
Selecteer nogmaals de juiste verzendmethode en klik op de button 'volgende'.
8. Betalen
Selecteer de juiste betaalmethode en bank en klik op de button 'volgende'.
9. Bestelling bevestigen
Controleer uw gegevens, lees en ga akkoord met de algemene voorwaarden en klik op de button 'afrekenen'. Uw bestelling is nu definitief en kan niet meer gewijzigd worden. U wordt doorgeschakeld naar uw online bankieren omgeving.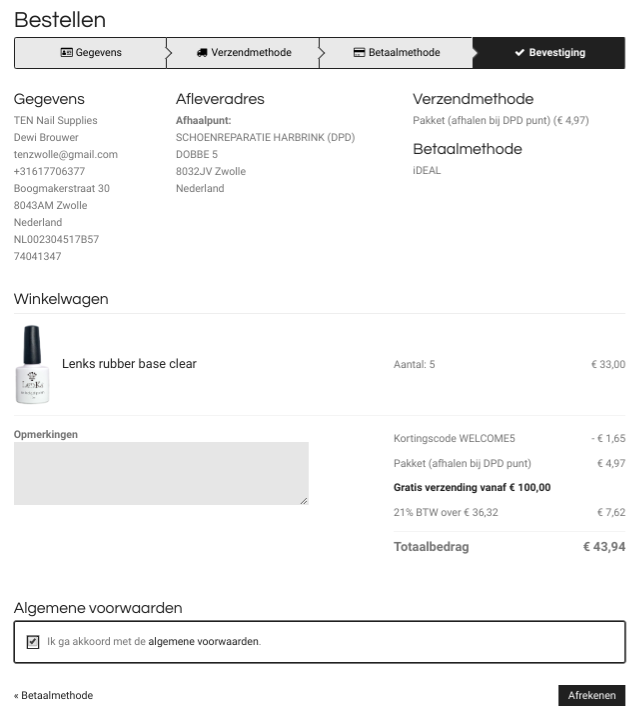 10. Bestelling voltooid
Nadat u de betaling heeft voltooid wordt er een bestelbevestiging getoond. U ontvangt een bestelbevestiging per email en een digitale factuur. Wanneer de bestelling is verstuurd ontvangt u een verzendbevestiging en track en trace per email.